상담이 필요한 제품입니다.
STEADIMATE ADAPTER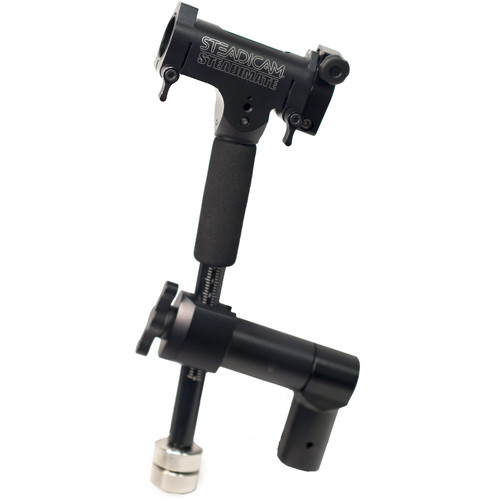 HOW IT WORKS:
- Attach the Steadimate adapter to the handlebar of the motorized gimbal.
- Balance the Steadimate System.
- Connect your Arm and Vest.
- Enjoy the operating benefits!
THE BENEFITS:
- Take the load off the operator'?™s arms for longer durations of operating without the fatigue.
- Effortless tilting via the pivot on the Steadimate.
- Increased stability & z-axis stabilization for the smoothest shot possible.
- Quick interchangeable use from handheld operation to Steadimate operation.
COMPATIBILITY:
- Motorized Gimbals with handlebars that are 25 mm, 25.5 mm, or 30 mm in diameter.
-The Steadimate comes standard with a post block and balance pin that fit arms with 1/2 inch posts.
Operators can purchase accessories that adapt the Steadimate to fit arms with 5/8 inch and 3/4 inch posts.- The weight capacity for the Steadimate depends on the weight capacity of the motorized gimbal, arm, & vest being used. For operators who already own an arm & vest, the Steadimate can be purchased on its own. For operators in need of a complete kit, Tiffen offers Steadimate Systems in two weight classes


입금확인 다음날 출고 됩니다.
퀵문의 : 02 - 544 - 2283

당사의 소모성 상품을 제외한 모든 제품의 무상 A/S 보증 기간은 12개월이며 보증 기간의 시작일은 제품이 당사에서 출고된 다음날입니다.

A/S 문의 : 02 - 544 - 2283 / rma@dvinside.com

당사 쇼핑몰에서 판매되는 모든 제품은 불량의 경우 1:1 교환해드립니다